Steam Deck alternative by Asus isn't actually an April Fools gag
April 3, 2023
Turns out the Asus Rog Ally is a real Steam Deck alternative, as the component giant just confirmed it's not an April Fools' gag. Not only will the handheld gaming PC boast Windows 11 support, but you'll be able to hook it up to one of the best graphics card options to give it a true desktop boost.
News of the Asus Rog Ally Steam Deck rival arrived on an unfortunate day, but that was the company's plan all along. When you think about it, unveiling a "too good to be true" product on a day of disbelief makes sense, as it makes for a great double bluff. That's not to say the new handheld promises anything fictitious, but it has a few things going for it that could shake up the portable PC gaming scene.
For starters, Asus says it has worked together with AMD to provide the Rog Ally with the "fastest AMD APU yet." We're still waiting for official specs to land, but that could mean it'll wield the 'Little Phoenix' chip that we thought was intended for the Steam Deck 2. That perhaps permits Asus to boldly claim it'll bring "true PC performance to your life on the go," even though Valve's handheld arguably already does just that.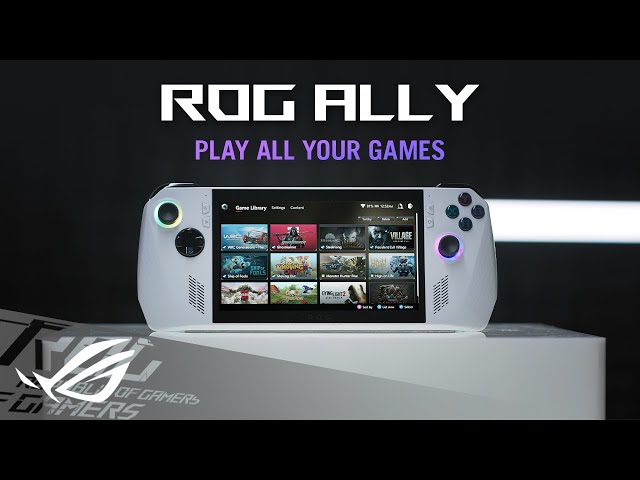 The handheld's promotional trailer also claims it'll provide a smooth "Full HD" gaming experience, which suggests it'll come armed with a 1080p screen. Better still, Asus says you'll be able to play under the sun, meaning it may come with anti-glare capabilities that hold up against the 512GB Steam Deck model.
Just like Valve's handheld paired with the best Steam Deck dock, you'll be able to hook up the Rog Ally to a big screen. Yet, rather than pairing the portable with a docking station, the trailer says it'll work with the Rog XG Mobile – an eGPU inclosure that lets you hook up a fully-fledged graphics card to compatible laptops and the upcoming handheld.
That alone will give it a hybrid edge against both Valve's handheld and consoles like the Nintendo Switch, as 'docked mode' will boost fps. However, the latest Rog XG Mobile eGPU enclosure costs an eye-watering $1,999 USD, so the setup is nowhere near the same price as a Steam Deck and docking station combo.
Given the Asus Rog Ally's premium vibe, the handheld itself will probably cost much more than the Steam Deck too. Other portable Windows-based Steam Deck alternatives, like the Onexplayer Mini, come in at $1,229, so it'll be anything but a rival in terms of price. That said, Asus' achievements within the best gaming laptop space should help it grab a slice of the portable PC market pie, one that might enable it to make cheaper models in the future.
In fact, if Asus successfully steps into the handheld limelight, there's no reason why a SteamOS version of the Rog Ally can't emerge down the line. Valve has said it's open to the idea of manufacturers making their own Decks, and it may make my dream of a modular Steam Deck 2 more viable. Of course, we'll need to test the Rog Ally first-hand before knowing whether the company can offer something truly new, so watch this space for more deets.