[PS4] Yuppie Psycho: Executive Edition Review
February 3, 2023
Yuppie Psycho: Executive Edition from Neon Doctrine and Baroque Decay is ready for you on PlayStation 4. Learn more in Yuppie Psycho: Executive Edition review!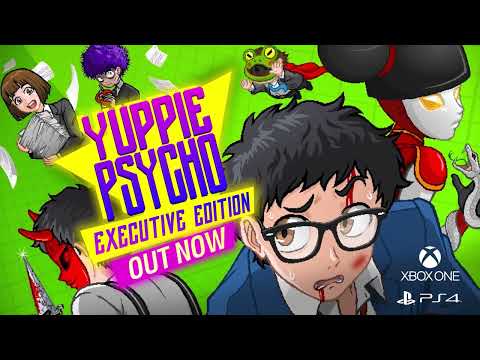 Please enter your date of birth to access this video.
Ah, imposter syndrome. It gets all of us once in a while. It usually gets you when you are young and have landed your first office job. It's your first day, and you are not really sure if you belong there. Now that you think about it, you don't remember applying for this job! The interview process was a blur, but now here you are, and you realize a little too late that you are way in over your head because you are not sure what your job is or what the company does. Do you walk out? Or do you fake it until you make it? That is the dilemma facing young Brian Pasternack in Yuppie Psycho: Executive Edition from Baroque Decay and Neon Doctrine. The indie dev previously gave us The Count Lucanor on Sony's console, and now it's back with a new horror experience on PlayStation.
Originally released in 2019, Yuppie Psycho has landed on PlayStation to offer its unique blend of puzzle-solving and survival horror, and it's still as strong as it was back then. The Executive Edition part of the game's name on Sony's console exists because this is the definitive edition since it includes a lot of extra content to enjoy – new areas, new bosses, and new content that will allow you to spend some extra time in the Yuppie Psycho universe.
Brian is a lower-class individual who has suddenly landed himself a job in the highly prestigious Sintracorp, a company that does… something. Brian is not really sure. He received an acceptance offer in the mail informing him of his new job. Curious, he decides to turn up to the office as instructed to begin his new role as "Witch Hunter." No, No. This is not some corporate speak. His job is to find the actual witch that is somehow infecting the employees at the company and to bring her down. Brian doesn't have a clue what is going on most of the time, and neither does the player, but Yuppie Psycho engrosses you in a highly infectious way that keeps you on tenterhooks from start to finish.
The pixel-style visuals might put off some people, but after a while, the decision to use this style seems to make sense and becomes a significant part of the total package. And that sums up Yuppie Psycho perfectly. The game seems weird, ridiculous, and completely off the wall, but when you look at it thoroughly, the allegories shine through. Yuppie Psycho is clearly a metaphor for the warped representations of things you would associate with things from an office job, accentuating the game's narrative. Things like a cup of coffee and a sandwich being your healing items, a pencil being your main form of defense, all really give this game layers. There is not much to say about Yuppie Psycho that will sell you on it other than you have to try it out for yourself, especially if you are a fan of horror games.
The game is nicely written and presented with great style and commentary on office life. Some may find the puzzles a little cumbersome. One encounter with a spider left me a little bit confused as the means of defeating it were not properly flagged. In addition, the game does not seem to have a means of reminding you what you are doing next, so some may find that annoying, especially if you stop playing for time.
Yuppie Psycho is a fun game for sure, especially with the multiple endings it has to offer and the additional content brought forth by the Executive Edition now ready for you on Sony's console. Folks who are into horror experiences and puzzle games will be captivated by Yuppie Psych, and those looking to sink their teeth into a nice mystery will find this game to be appealing. Yuppie Psycho: Executive Edition is out on PlayStation 4 with a $16.49 asking price.
Disclaimer
This Yuppie Psycho: Executive Edition review is based on a PlayStation 4 copy provided by Neon Doctrine.