Destiny 2's newest raid demolished with first solo flawless completion
April 24, 2023
The latest Destiny 2 raid has been completely demolished just over a month after the Destiny 2 Root of Nightmares release date. That's right; not content with beating Lightfall's hardest content by themselves, one incredible Guardian has gone one step further in the FPS game and done it without dying, completing the Destiny 2 Root of Nightmares solo flawless challenge, the first of its kind in Bungie's space sequel.
Guardian 'Xemo' – who goes by 'x3mo' on Twitch – live streamed all their attempts at the challenge, which they estimate "took about 170-200 total hours" to pull off. The full run, which you can watch below, is just shy of an hour long, but includes a couple of brief five-minute pauses prior to the Zo'Aurc and Nezarec fights while waiting for Destiny 2's internal heavy ammo refresh timer to tick down. They take this time to get in a few games of Snake, as well as completing their daily Wordle.
Seeing Xemo completely obliterate the toughest encounters Lightfall's raid has to throw at them without five other players by their side is, quite frankly, a thing of absolute beauty. Watching their Warlock soar across the arenas perfectly and drop grenade after grenade with effortless precision (I love that toss animation) to manage the incoming enemy spawns is mesmerising, and you'll probably learn something about good strategy along the way as well.
Xemo maintains a pretty calm demeanour throughout, too, although that changes somewhat upon Nezarec's defeat, where a loud yell of joy is followed by, "I just woke my entire f***ing house up, by the way!" They get rather lucky, too – not only does Nezarec cancel his own wipe attack by deciding to slam attack at the last moment, but Xemo misses a key shot right at the climax, almost dropping his Radiant timer, only for the stray bullet to catch an enemy in the back and save his run.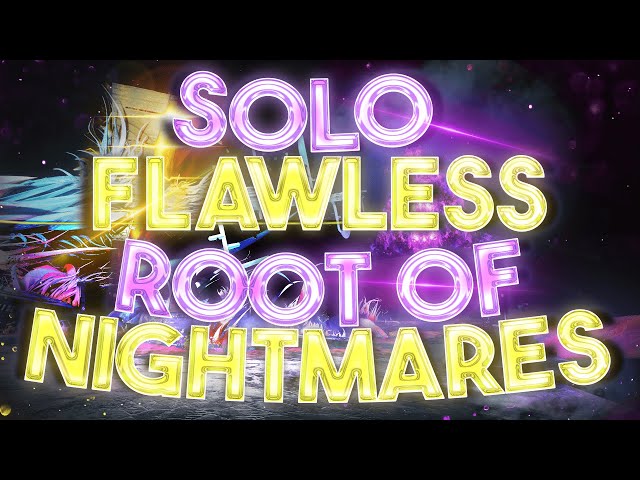 This comes just a couple of weeks after a Destiny 2 player known as 'NAPainter_' proved that such a run was possible by completing the planet's encounter, Macrocosm, by themselves. Typically, Destiny 2 raids are built in a way that makes certain encounters near or literally impossible to finish without at least one other player involved.
We here at PCGamesN offer our utmost congratulations to Xemo for this momentous achievement, which makes Root of Nightmares the third Destiny raid to be cleared solo and flawless – but the first in Destiny 2. Previously, both Crota's End and Wrath of the Machine were cleared by a single player without dying in the original Destiny, although the latter actually happened after the launch of Destiny 2.
If you want to make your own run at Nezarec, you'll want to study our Root of Nightmares guide carefully first. Make sure you bring the best Destiny 2 Exotics in Lightfall, though, and ensure you're rocking one of the best Destiny 2 builds as well, or you won't stand a chance.