Best SSD for gaming 2023
May 10, 2023
What is the best SSD for gaming? We've been keeping up with the latest (and, of course, fastest) solid state drives, racing their read and write speeds against one another. With storage requirements growing ever larger, it's never been more important to make sure your system's got plenty of space for your current and future favourite games.
No matter how old your gaming PC is, any system can benefit from swapping from ageing mechanical drives to more modern SSD options. In addition to getting faster with the advent of the NVMe protocol, M.2 drives mean terabytes of storage has never been so small or affordable.
Here are our best SSD for gaming picks in 2023:
1. WD Black SN850X
The best SSD for gaming is the WD Black SN850X.
Expect to pay $159.99-$699.99 / £153.99-£701.99.
Pros
The fastest PCIe 4.0 gaming SSD
Optional RGB heatsink
Software ensures maximum performance with Game Mode 2.0
Cons
Great performance comes at a great cost
Can run a touch hot without a heatsink
The WD Black SN850X is the fastest SSD you can buy, making full use of its PCIe 4.0 interface with lightning-fast sequential read and write speeds of 7,300MB/s and 6,600MB/s, respectively.
This level of performance not only improves loading times in games, but you should notice your gaming PC boots faster and more quickly handles general tasks. You'll always get the most out of the drive while playing games too, thanks to its Game Mode 2.0 toggle in the included software.
If you're worried about potential thermal throttling impacting the WD Black SN850X, you can pick it up with an optional heatsink for peace of mind. Better still, the heatsink comes with a splash of RGB too, so it can look cool while staying cool.
2. Samsung 980
The best PCIe 3.0 SSD is the Samsung 980.
Expect to pay $52.99-$139.99 / £44.99-£93.99.
Pros
Fast PCIe 3.0 speeds
Robust Samsung Magician software
Cons
Outperformed by PCIe 4.0 drives
No DRAM
The Samsung 980 is the perfect fit for anyone looking to upgrade their ageing SATA hard drives or SSDs with something a bit nippier. The South Korean tech giant's storage components have remained among the most desirable in the market for years, and it's not hard to see why.
Using a PCIe 3.0 interface, the Samsung 980 delivers sequential read and write speeds that transform any sluggish gaming PC into a nippy machine. The SSD can be further enhanced through the use of Samsung Magician software, making it easy to get the most out of your new drive.
3. Samsung 870 EVO
The best SATA SSD is the Samsung 870 EVO.
Expect to pay $33.99-$269.99 / £29.99-£223.99.
Pros
Still plenty fast for PC games
High capacity options
Cons
Slightly lofty price tag
Much slower compared to NVMe drives
NVMe SSDs will undoubtedly replace their SATA brethren, but there's still plenty of value to be had in drives that use the ageing interface like the Samsung 870 EVO. While its sequential read and write speeds may seem paltry in the face of PCIe storage, it's still plenty fast for most games and is undeniably faster than any hard drive.
If you prioritise capacity over speed, opting for the Samsung 870 EVO could be a smart move. You can pick it up in sizes that go all the way up to 4TB, meaning you won't have to worry about rehoming your Steam library and it costs much less than any M.2 SSD with the same amount of space.
4. Crucial P5 Plus
The best cheap PCIe 4.0 SSD is the Crucial P5 Plus.
Expect to pay $74.99-$149.99 / £71.99 – £239.99.
Pros
Super snappy read/write speeds
Great endurance rating
Five-year warranty
Cons
Not the fastest drive in its class
Could be more power efficient
PCIe 4.0 SSDs don't have to cost a fortune, and Crucial's P5 Plus proves you can pick up a drive with respectable performance without having to stretch your budget.
Not only does the Crucial P5 Plus boast read speeds up to 6,600MB/s but its two million-hour mean time to failure (MTTF) rating means it's reliable to boot. Of course, it also comes with a five-year warranty, just in case its impressive endurance rating isn't enough to incite confidence.
5. WD Blue SN570
The best cheap PCIe 3.0 SSD is the WD Blue SN570.
Expect to pay $29.99-$99.99 / £24.99-£89.99.
| | |
| --- | --- |
| | WD Blue SN570 specs |
| Capacity | 250GB, 500GB, 1TB, 2TB |
| Flash memory | TLC |
| Interface | PCIe 3.0 x4 |
| Sequential read | Up to 3,500MB/s |
| Sequential write | Up to 3,500MB/s |
| Form factor | M.2 Type-2280 |
Pros
Full x4 PCIe 3 interface
Great price-to-performance value
900TBW endurance
Cons
WD is here to show that you can, in fact, have it all, as the Blue SN570 NVMe SSD boasts up to 2TB of storage, a solid 900TBW endurance, and respectable read and write speeds for one the lowest prices you'll find.
Of course, it's not the fastest drive out there, but it's hands down the best you can get under $100 without sacrificing capacity, speed, or both. That makes it the perfect option for the best gaming PC on a budget.
6. Crucial MX500
The best cheap SATA SSD is the Crucial MX500.
Expect to pay $34.99-$218.99/ £26.99-£235.99.
Pros
Competitive price
Top read/write performance for SATA
Good endurance
Cons
Lower capacities are slower
The MX500 should be your go-to if you're wanting the cheapest SSD possible, without compromising too much on quality. Because of its Micron parent company, Crucial is able to offer SSDs using its own high-quality memory for a great price.
The MX500 seriously undercuts its competition and while it's not strictly the cheapest SSD on the market, it's the most budget-friendly we can recommend as a worthwhile, quality purchase.
Read our Crucial MX500 review for a full verdict and score.
7. Gigabyte Aorus RGB M.2 NVMe SSD
The best RGB SSD is the Gigabyte Aorus RGB M.2 NVMe SSD.
Expect to pay up to $119.99 / £87.99.
| | |
| --- | --- |
| | Gigabyte Aorus RGB M.2 NVMe SSD specs |
| Capacity | 256GB, 512GB |
| Flash memory | TLC |
| Interface | PCIe 3.0 x4 |
| Sequential read | Up to 3,480MB/s |
| Sequential write | Up to 2,000MB/s |
| Form factor | M.2 Type-2280 |
Pros
Best looking SSD with RGB
Five-year warranty
Cons
Not as fast as it is pretty
Tops out at 512GB
SSDs usually aren't the flashiest of components, often taking a back seat to RGB-clad items like graphics cards, the best CPU coolers, and the gaming RAM. But the Gigabyte Aorus RGB M.2 NVMe SSD is the outlier to that rule, with a stunning design that deserves to be on show.
If you don't want to hide your M.2 drive under a shroud, the Gigabyte Aorus RGB M.2 NVMe SSD is the latest PC component to be RGB'd, with its strikingly bright and customisable heatsink. It's not too overbearing and can add a bit of flare to your setup.

8. SK Hynix Platinum P41
The best M.2 SSD for laptops is the SK Hynix Platinum P41.
Expect to pay $89.99-$156.99 / £89.99-£156.99.
Pros
Compact form factor
Five-year warranty
Extraordinary 1,200TBW rating
Cons
Even the best gaming laptop benefits from more storage, and the SK Hynix Platinum P41 SSD is perfect for increasing your on-the-go storage without compromising on spec. Featuring an in-house Aries controller, this drive is capable of read speeds up to 7,000MB/s, meaning it'll run rings around SATA SSDs and many NVMe options.
In spite of its impressive speeds, the Platinum P41 features an equally impressive power efficiency rating, something that helps maintain peak performance within a toasty laptop environment. Naturally, this also means it'll be kinder to your portable powerhouse's battery, which could help you spend less time gaming next to a power outlet.
9. Corsair EX100U
The best external SSD for gaming is the Corsair EX100U.
Expect to pay $69.99-$384.99 / £74.99-£389.99.
| | |
| --- | --- |
| | Corsair EX100U specs |
| Capacity | 1TB, 2TB, 4TB |
| Interface | USB 3.2 Gen 2×2 |
| Sequential read | Up to 1,600MB/s |
| Sequential write | Up to 1,500MB/s |
| Form factor | Portable |
Pros
Three times faster than SATA SSDs
Compact design
USB Type-C connection
Cons
No dust or water resistance
No USB-A adaptor
Included cable is a bit short
The other SSDs on this list will live inside your rig, but if you're wise, you'll also keep backup external storage on standby. The Corsair EX100U is both small and speedy, making it the perfect storage solution for when you're on the go.
It's worth noting that the Corasir EX100U uses a USB 3.2 Gen 2×2 interface, which allows it to offer read and write speeds faster lightyears ahead of SATA. However, don't worry if you don't have a built-in USB-C port in your machine as it comes with a USB-A adapter.
10. Sabrent Rocket 2230
The best Steam Deck SSD is the Sabrent Rocket 2230.
Expect to pay $49.99-£159.99 / £49.99-£149.99.
| | |
| --- | --- |
| | Sabrent Rocket 2230 specs |
| Capacity | up to 1TB |
| Interface | PCIe 4.0 x4 |
| Sequential read | Up to 4,750MB/s |
| Sequential write | Up to 4,300MB/s |
| Form factor | M.2 Type-2230 |
Pros
Right size for Steam Deck
Great specs
Durable
Cons
Requires opening up your Deck
If you've already had a peek inside Valve's handheld, you'll already know that a standard M.2 SSD isn't going to fit. Thankfully, the Sabrent Rocket 2230 is exactly the right size, so you won't have to make any weird modifications to expand your on-the-go storage.
The Sabrent Rocket 2230 might be dinky enough to fit inside the Steam Deck, but it still packs a solid-state punch. The PCIe 4.0 drive boasts up to 4,750MB/s read speeds, and you'll be able to write up to 4,300MB/s to the compact SSD. Despite its size, 1TB models are also available, meaning you could bring an even greater chunk of your Steam library with you on your travels.
Looking for more portable add-ons? Check out our best Steam Deck accessories list for more ways to enhance Valve's handheld gaming PC.
What are the benefits of using an SSD?
Solid-state drives are inherently faster than traditional mechanical drives, mostly due to the fact they feature no moving parts. So, by replacing your old hard drive with even the cheapest SSD, you can expect fast boot times, speedy file transfer rates, and even enhanced gaming performance. That said, installing a shiny new storage drive won't magically make your gaming PC faster, especially if you're still rocking old components.
SATA vs NVMe SSDs
SATA drives have been around for a while longer, and while they offer lower read and write speeds than you'll find on an NVMe-based drive, the price per GB is much lower. This makes them the perfect choice if you want a high-capacity solid-state drive for storing your Steam library, or if you're going for a budget PC build. Plus, the speeds are still significantly better than a conventional hard drive.
What is an add-in card SSD?
Add-in card SSDs look a little bit like graphics cards, and they connect to your PC via PCIe. While they use the same standard as M.2, PCIe options boast compatibility over M.2, as you won't need a motherboard with a newer socket type to upgrade from SATA.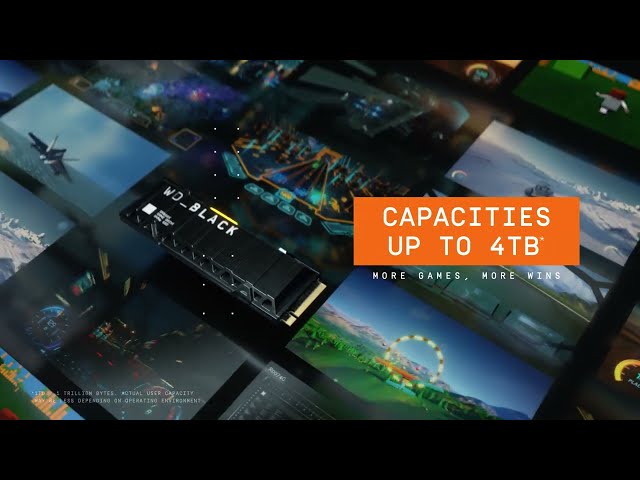 Which capacity SSD should I go for?
Not all of the best PC games benefit from being installed on an SSD, so you don't necessarily need a drive as big as your secondary storage. If you just want an SSD to install Windows onto, then a 512GB capacity is sufficient. 1TB is enough for installing a few games that benefit, too, although you can go even higher.
Can you put a PCIe 5.0 SSD in a PCIe 4.0 slot?
PCIe 4.0 is both backwards compatible and forwards compatible, meaning you can use a PCIe 3.0 drive with the newer format and vice versa. It's worth noting in both instances, your performance will be constricted by the 3.0 standard's limitations.